Shop History
My Story & Difference
Why?
When I sold my business two years ago, my friends and family assumed I was going to retire, sail into the sunset, and grow old (and even more grumpy) in dotage. They were somewhat taken aback when they learned that in addition to maybe playing a little more golf and taking some more time out for travelling, I also wanted to continue to work. The last part surprised them, prompting the question, "Why?!" My answer was quite simple. I told them, "I haven't found anything I like doing better!"
I've had a long and extensive career, with both some wonderful high points and many low ones as well. My greatest pleasure and satisfaction over the years has come from helping someone solve a problem or capitalize on an opportunity, whether it be a course correction, a career change, sales growth, team development, or skills for effective leadership.

Your Son Won't Even Make it as a Butcher - The Story Behind the Name of My Website
You may be wondering where the bizarre name for my website came from. Here's the genesis of that name, which explains why I have always had such a strong belief that one of the most gratifying things we can do for anyone, regardless of age, is to let them know we believe in them, particularly in moments when they doubt their own competence or potential.
Here's my story. I had just turned 17 when I arrived back at Churchill, a well-known senior public school. It was at a low point in my academic life. I had just transferred from St. George's College, a private school where I had ignominiously failed all my school leaving exams. My mother went to the school to try to find out what the heck was going on. There, she encountered my French teacher, who, when asked what the future held for me, told her, "Your son won't even make it as a butcher!" The message was a blunt opinion that I was a no-hoper. Not surprisingly, arriving at my new school, I felt apprehensive and beaten up, but I also had the resolve to dig myself out of the hole I had dug for myself. As nobody at Churchill knew me, I had no "bad boy" image to live up to. This would give me the chance to recommit myself to getting my act together. It was reassuring to feel that I had just been given a clean slate.
Two teachers at Churchill made significant contributions to my academic turnaround and self-image. The first was my geography teacher, a gentleman by the name of Pete Snyder. He was passionate about his subject matter, which was reflected in the enthusiastic way he taught us. He wanted the best for his students. He showed everyone respect, and we reciprocated.
A second teacher, Mr. O'Brien, made another positive change to my self-perception when he asked me one day, out of the blue, what university I was applying to. To be asked this question was a shock to me given my previous academic failures. The thought of attending university hadn't even crossed my mind, let alone the notion of picking one. But here was a teacher who thought that I was automatically headed to university. His regard for me, in turn, was the catalyst that gave me the confidence to think that maybe I did have the potential to go further in my studies and in my life.
Both these teachers, whether consciously or unconsciously, applied what has been called the Pygmalion effect. The Pygmalion effect is a psychological concept where high expectations lead to improved performance in a given area. Not surprisingly, I'm a big believer in the Pygmalion effect.
A Brief Overview of my Work Experience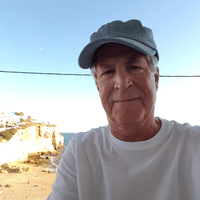 As you can see from recent photos, I'm no spring chicken! I was born in Zimbabwe. After graduating from Rhodes University in South Africa and marrying Moira, we moved to South Africa for 12 years. From there onto Brazil for five years, before settling in Canada, where my family and I have been for the last 34 years.
My various careers span a lot of years! They begin first with three years as a social worker in Zimbabwe. I then moved into the corporate world as CEO of a variety of companies spanning 25 years in South Africa, Brazil, and Canada. My corporate career included working for a multinational leader in the music industry in Rio De Janeiro, regional management working for one of South Africa's largest women's fashion retailers in Cape Town, food manufacturing for three acquired companies also in Cape Town, as well as CEO in the construction industry, marketing a new innovative building product that became the dominant market leader in its niche North American market.
After 30 years of corporate experience, I then entered the entrepreneurial world, opening my own business as Rooney, Earl, and Partners. We offered training, coaching, and consulting services to small- and medium-sized businesses for the next 18 years. I sold that company two years ago.
In addition to my business experience and acquired expertise, I earned an MBL (Masters in Business Leadership) over a four-year period with the University of South Africa. That degree was supplemented over the years with various courses at London University, Stanford, and Harvard.